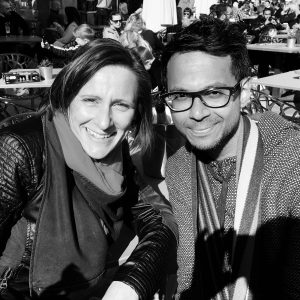 In 1996, at age 8, I became a pupil in Claire Burnill's class at the Colombo International School in Sri Lanka. I remember our first meeting: me being very shy about meeting my new teacher, she being slightly scattered because my parents and I walked into her new classroom unannounced during the summer holidays while she was busy setting up for the new academic year. It was her first job after leaving university in Exeter – she must have been around 23 at the time – and even though Sri Lanka probably wasn't the easiest environment for a first teaching job, she managed to achieve a lot in the three years that she was there. Apart from her normal lessons, she would teach barn dancing (very lovely, in those tropical humid temperatures with loads of sweaty overactive kids), literature (I remember her reading to us Shakespearean sonnets, Beowulf, the Highwayman, the Hobbit, and other English classics), and – perhaps most significant to me in the long run – she became the director of the choir and the musical theatre productions.
When I was 10 (and she was in her final year in Sri Lanka) I was still a primary school student but I pleaded with her to let me sing in the secondary school choir (that she conducted) for that year's carol service, because I wanted another go at singing all those amazing descants while I was still a treble. A few months later, my voice broke about a week before the performance of the theatre production that Claire musically directed, but fortunately she found a way to still make it work and I never really stopped singing, at all. At that time I had no idea it was possible to be a professional musician, much less a professional conductor – we were all in it just for the fun of it, and for the magic of making music together with limited means.
My school there was more British than any school in Britain could have been: a combination of expat pride, colonial legacy, and prudish – almost Victorian – Sri Lankan morals led to having many rules, values and traditions that we had to abide by, some of them pretty ridiculous in hindsight. We also (of course) had a school anthem, two verses long, that was sung by everyone at any official occasion (and there were many). For all we knew this song 'belonged' to CIS and probably no-one gave it much second thought.
Until, in that first year that I was Claire's pupil, we spent a few weeks learning about the solar system and in one of those lessons, in a stroke of teaching genius, she played us a cd of an orchestral piece that was called 'Mars – the bringer of War'. For me, never having heard orchestral music outside of films, it was a revelation. Then she played a movement called 'Jupiter – the bringer of Jollity' and it was the complete opposite of what we'd just heard. The class was thrilled and the music was glittering and jubilant. Then a simple melody started and everyone fell silent, then started to shout: 'We know this, miss!' 'It's the school anthem, miss!' And indeed – as Claire obviously knew and wanted to share with us, the song that we knew as our school anthem was in fact based on the melody that Holst wrote at the centre of 'Jupiter', known in the rest of the world as the hymn 'I vow to thee my country', although our school anthem had its own text.
The fact that I still remember that moment vividly goes to show how much impact it had on me. Incidentally, I conducted bits of Holst's 'The Planets' myself with the Royal Liverpool Philharmonic Orchestra earlier this year when I was their assistant for a week; when I first heard the piece in Claire's class, I probably didn't even have a concept of what an orchestra was. But even now, so many years down the line, when the soaring melody in 'Jupiter' starts to sound, I automatically hear the words 'From many different countries we come to CIS…' in my head, as well as the rest of that school anthem.
Claire and I met up again yesterday in my new hometown of Manchester, after not having seen each other for 17 years. It's a feeling that's impossible to describe: meeting someone again after so long and being able to pick up from there, having this important and formative shared experience of living in a special country like Sri Lanka for a while. But it was most remarkable, I feel, to realise now that she as a teacher already saw back then when I was so young that I wouldn't go down a set path and that I would find my way into music somehow, even if it took me more than 10 years to realise that. Hopefully I was able to tell her yesterday, and through this little reminiscence, how important and formative those little infusions of music and literature that she gave us were to me. I can only hope that I've planted at least one similar seed in the mind of one of the many children I've worked with over the past years, or that I will at least do so in the years to come.
(The barn dancing, by the way, also had its own follow-up: a couple of months ago, I danced at my first céilidh, at the RNCM.)